"...but by the distance they have traveled from the point where they started." ~ Henry Ward Beecher
Hello again! We managed to survive Thanksgivvukah and only a little under the weather as a result. It was enjoyable though hectic and I think a little too much craziness, even for me! Weird, I know. I'm thankful that mashup won't happen again in my lifetime.
I want to share a little project with you that popped up out of the blue and has started me on the stepping stones to the larger path of my desire to learn woodworking. I finally made something out of wood! Not that I haven't messed with it a tiny bit, especially in the construction of our attic. But hubby did most of the physical construction there. Along with my other creative crafting pursuits, I've wanted to learn woodworking because the ability to build your own things is so alluring. My own tables, shelves, etc. And the intricate details! So much hard work and love goes into that.
As of yet, however, I have not the means nor the time commitment to enroll in any sort of beginner classes. Instead, I usually follow blogs like
Ana White
and
Sawdust Girl
and dream of what I could build on my own someday. But my first project is completed!
I ordered two new pegboards online for my lab at work, expecting them to arrive like the two I already have wall-mounted from years ago. Just ready for me to screw into the wall! I had some extra paint from home that I was going to use to jazz them up and add color to the drab white lab. Imagine my surprise when all I got were two pegboards. No wooden frame attached to hang them on the wall, no accompanying screws. Crap. This just turned into a bigger project.
I googled instructions on how to make a pegboard and luckily found this
very simple blog post
. It seemed doable to me just for the frame construction. I didn't need to turn them into flippable pieces or add handles like she did. Just the bare bones.
So I ordered the pieces online from Home Depot, after adding up measurements and figuring out how many individual pieces I would need. Pick-up was super easy, though they were a little thicker than I was imagining. (Cue just a tiny bit of alarm that I wouldn't be able to use the hand saw at work. I really didn't want to try and find the power saw in our messy basement) Once back at the lab, I marked my measurements on one piece and began the search for the hand saw. Hm. No luck finding this tool that I recall my coworker using to saw a giant tube in half. All I can find is a tiny pocketknife-type saw. It has a nice blade, but really? Is this going to work for 1x2s?
Texted coworker. Yep, that's what she used. Darn it. And I REALLY didn't want to wait until the next day or to take it home and cut it. Now I just want to build it! I had already painted the pegboard sheets a few days before and the green color was going to look great. The attachments had all arrived. I was itching to organize!
I gave it a go with the little pocketknife saw and surprisingly, it wasn't too bad. My arm was sore after cutting pieces for two frames but it was soft wood (pine) which was perfect for this little blade. And here's where I run into small issue number one. In my haste to get the frames built, I didn't double-check my measurements. And I began cutting while talking to a coworker, otherwise I probably would've noticed my error. But it wasn't until one entire piece of wood was cut that I realized I had followed the wrong measurements. And I now had two tiny pieces where I needed one longer piece. Shoot.
But no worries! I corrected the other marks and decided to cut the other pieces. I could always buy more wood, but I wanted to see the end results of the one frame first. In the end, I ended up joining the two tiny pieces with an extra screw while clamped together. Not the best, I'm sure. But they are flush and even and meet the corners squarely. So hurray! Error fixed.
Luckily, I have clamps at work, large worktables, and metal squares that will help me keep this frame nice and squared up while held in place. My drill and screws I brought from home - I am getting quite comfortable with this drill since it's helping me with lots of projects! I followed the blog post's directions on assembly and put together one corner at a time because of the table layout.
Right away, I ran into problem number two. My screws were two inch long screws. Just long enough to breech the second piece of wood and connect, but not so long as to be ridiculous screwing in. However, with the softness of the wood, my first corner began to crack and split as the screw went in. It didn't help that a giant knot of wood was located at the corner and part of it fell out, making it a little thinner at the edge. Lucky me, it seemed to hold strongly and didn't split completely. But after this one, I was nervous and screwed each one in as slowly as I possibly could and tried not to counter-sink the screws too much.
You can see the frames along the side of the pegboard.
Minor mess-ups avoided, I had a student help me assemble the pegboards to the frames with small finishing nails and later that week, we mounted them on the wall. They really add a nice pop of color to the space! So much so that I had to go back and paint the other two I already had on the wall.
My first real woodworking project without any help from my hubby. Now I just hope it doesn't fall off the wall anytime soon...I DID use a stud finder at least. :)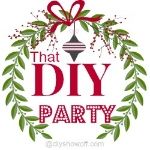 I'm joining
That DIY Party
today!